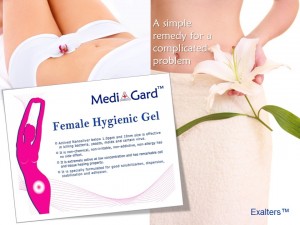 Female Hygienic Gel
Our Exalters® MediGard™ Female Hygienic Gel is formulated with activated natural Nanosilver and Aloe Vera extract in a pH balance gel medium.
The active Nanosilver at extremely small size of below 10nm diameter and low concentration of 5 ppm helps to cure, and prevent the recurrence of Bacterial Veginosis.
Benefit :
Provides pH balancing, sterilizing & cleansing of the reproductive tract and works in synergy with Aloe Vera extract to enhance wound healing, moisturizing and providing rich nutrients to promote healthy tissue.
For more detail information on our Exalters® MediGard™ Female Hygienic Gel product, kindly click into the attachment :-
Exalters® Moto
As the name suggests, Exalters' products are meant to fulfil human's natural desire to attain beauty, vigor and spiritual relief and satisfaction.