Nanosilver Active Solution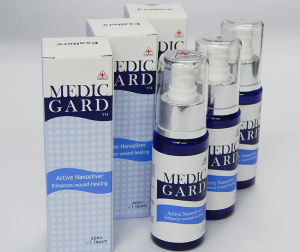 Nanosilver Active Solution
Our Exalters® MediGard™ active Nanosilver infused molecular realigned water is being manufactured by advanced nanotechnology and marketed widely. It's low concentration below 5ppm, is classified as food supplement similar to ordinary packaged drinking water.
Benefit of Nanosilver
The Benefits of nanosilver in cosmetic and medical products:
Improve the product safety and performance as antiseptic and wound healing agent.
Replace harmful chemical preservatives.
Reduce allergy and sides effects of chemical preservatives.
Reduce chemical pollution in our environment by a natural, non-toxic and safe natural element.
Nanosilver Safety :
For more detail information on our Exalters® MediGard™ Nanosilver Active Solution product, kindly click into the attachment :-
Download Product Information (PDF)
Exalters® Moto
As the name suggests, Exalters' products are meant to fulfil human's natural desire to attain beauty, vigor and spiritual relief and satisfaction.