AestheticGard Natural Cleansing Bar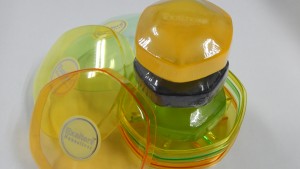 Natural Cleansing Bar
Our Exalters® AestheticGard™ series of soaps are formulated FREE from harmful substances and therefore, they are exceptionally environmental friendly:
No Excess Alkali
No Phthalate
No Paraben
No SLS/SLES
No animal ingredient and non-animal testing
We are specialize in the manufacture of transparent glycerin soaps which provide consumers the following additional benefits over the toilet soaps:
Benefits:
Have attractive transparency.
Have strong moisturising effect.
Provide good rinseability.
Provide effective cleansing without formation of soap scum.
Feel extra mild because of no excess alkali and extra emollients
Provide homegeneous composition of ingredients like vitamins, herbal extracts, emollients and fragrances.
Rose Geranium Natural Moisturising Cleansing Bar
Made from premium natural selected ingredients and enhanced with active Nanosilver. It provides mild, gentle and protective skin cleansing.
Perfect Protection Anti-Bacterial Cleansing Bar
Works well on problems skin, such as bad odor, pimples, rashes, breakouts, dryness, redness, irritation and other undesirable skin conditions. The natural menthol provides cooling and refreshing feel.
Lavender Peppermint Uplifting Cleansing Bar
Made from a careful and comforting blend of therapeutic essential oils. It cools, refreshes, soothes and uplifts your skin and spirit. It relieves tiredness and revitalizes the spirit after use.
For more detail information on our Exalters® AestheticGard™ glycerin transparent soap products, kindly click into the attachment :-
Exalters® Moto
As the name suggests, Exalters' products are meant to fulfil human's natural desire to attain beauty, vigor and spiritual relief and satisfaction.