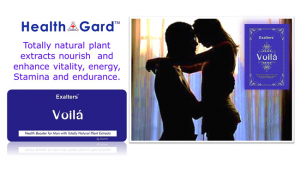 Voilá (Health Booster For Man)
Our Exalters® HealthGard™ Voilá is resulting from the intensive research by the scientists, a natural and unique combination of herbal ingredients for restoring male hormonal imbalance is formulated.
Values :
Improves blood circulation to the peripheral regions of the body.
Contains high anti-oxidant content that buffers the effect of physical and mental stress.
Reduces hypertension and lessens blood cholesterol.
Boosts stamina and physical endurance.
Promotes healthy prostate gland.
Promotes testosterone and sperm production.
Enhances male fertility and sexual function.
Is Voilá safe for use ?
All Natural Source of Ingredients.
No Possible Side Effects.
No Harmful Additives.
Rejuvenating effect.
Promotes testosterone & boost stamina.
Safe & Highly Effective.
For more detail information on our Exalters® HealthGard™ Voilá product, kindly click into the attachment :-
Exalters® Moto
As the name suggests, Exalters' products are meant to fulfil human's natural desire to attain beauty, vigor and spiritual relief and satisfaction.